A long-established beef business, employing over 450 staff, relies heavily on air-powered tools and machines for its complete range of meat processing operations and its pneumatically equipped packaging lines.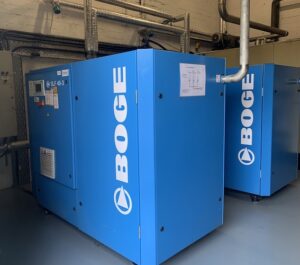 Outdated technology and machines meant the energy costs were rising and heat generated by the compressors was simply going to waste.
After applying data loggers to the system, the distributor could monitor the energy usage and estimate how much would be saved by replacing the existing 55 kW and 30 kW units. In place of the two old compressors, a BOGE SLF 40 and a BOGE S 40 were installed, both with a power rating of 30 kW (40hp). The SLF model offers frequency-driven variable speed, while the other speed is fixed.
Each of the BOGE models has an integrated heat exchanger. This harvests heat energy and transfers it to the plant's hot water system, for use in wash-down and other processes. The end result included a smaller carbon footprint, lower heating bills, and an annual energy saving of £25k a year.