A market leader in the manufacture of clay pigeons since 1982 and a longstanding Maziak customer was ready to upgrade its equipment to benefit from the energy efficiencies and cost savings of new technology. A datalog revealed two key issues: as expected, the age and efficiency of the equipment was adding cost and risk, and the pressure was higher than was needed operationally.
Maziak recommended a reduction in system pressure of 1bar and the installation of an HPC ASD60SFC variable speed drive compressor to deliver more compressed air for less energy. The internal SIGMA CONTROL 2 compressor controller offers various communication channels and achieves unprecedented levels of efficiency.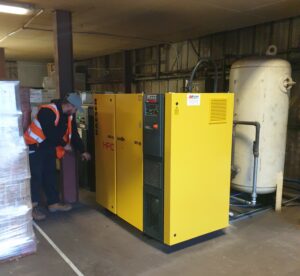 A Parker SPS062 refrigerant dryer unit was also installed. With its highly efficient heat exchanger design, the refrigerant circuit absorbs less power and requires less refrigerant than comparative dryers, making StarlettePlus-E more energy efficient and environmentally friendly.
The customer utilised the super deduction capital allowance scheme, amounting to just over £24k. With a reduction of 1 bar in pressure it made an immediate 7 per cent energy saving. Plus, the overall installation reduced annual electricity costs by just over £5k (based on £0.10 p/kW/hr) at a time when energy costs were set to spike.